2021 Anthropology Newsletter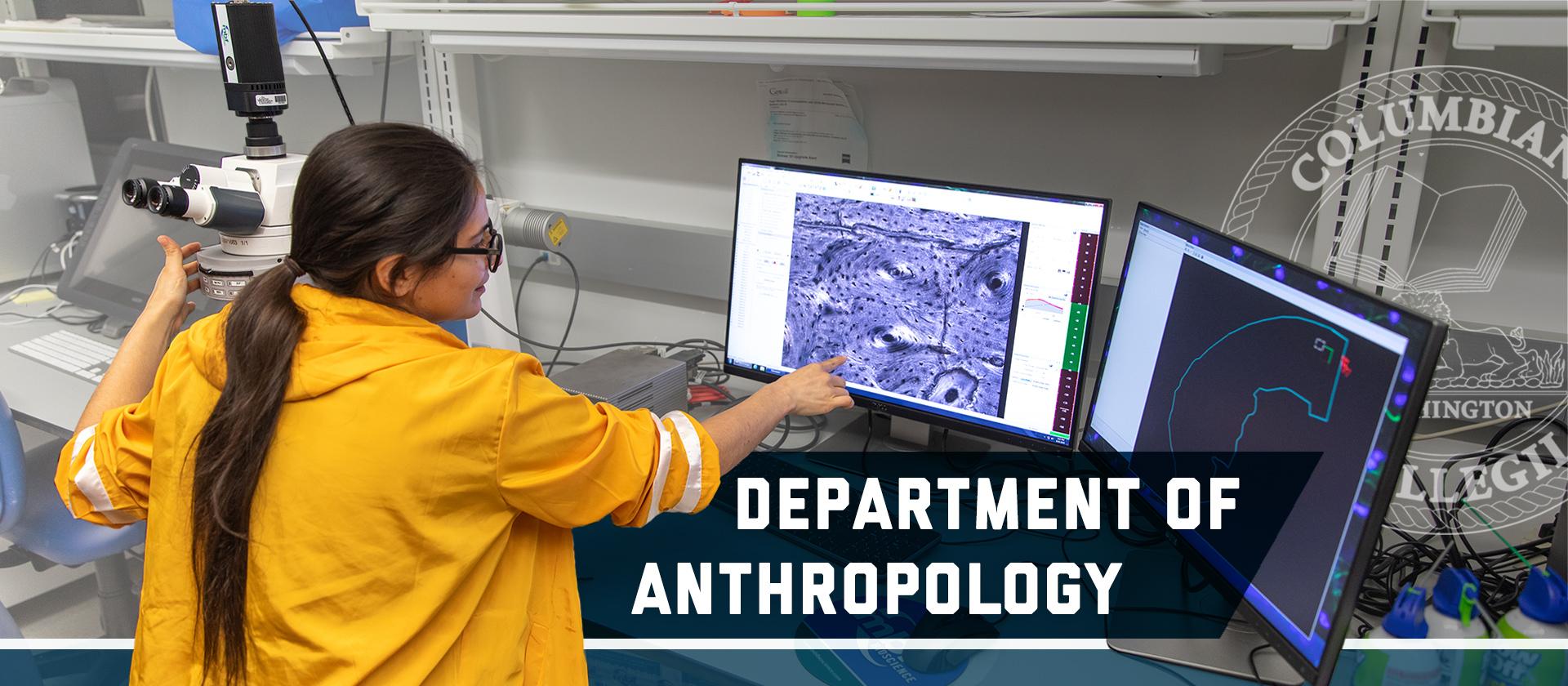 Message from the Chair
Department Spotlights
Alumni Class Notes
Department Kudos
---
Message from the Chair
Dear Anthropology Alumni,
Our department and our discipline are at a moment of challenge and opportunity. How can we embrace crucial challenges associated with diversity, equity and inclusion (DEI), while transforming important aspects of our discipline's approach to culture and evolution?
For this upcoming spring, we are excited to announce that we will be hiring a faculty member who specializes in the archaeology of the Black Atlantic. This future colleague will focus on race and the lived experiences of enslavement, resistance and freedom amongst Africans and Afro-descendants in the Americas.
We recently co-hosted a speaker series on race and technology with the Elliott School of International Affairs. We are inviting diverse scholars to discuss the ways in which science and technology are implicated in processes of racial categorization, governance, and policing. These talks took place in November and early December. 
Lastly, we have organized a Diversity, Equity and Inclusion Task Force to identify issues in our research and teaching, research possible solutions and present those back to our faculty and students. The committee is composed of faculty, undergraduates, graduate students and staff, and has already done important work on mentoring, recruitment, standardized testing, training and governance. We are deeply appreciative of those who have served, and to those who are serving this year.
We have lots more work to do on DEI. While in some ways these issues have concerned us for a long time, in other important ways we are only getting started. We hope you will join us by sharing your perspectives and expertise.
We love hearing from you, so please reach out when you have a moment.
Sincerely,
Alexander Sebastian Dent, PhD
Department Chair
---
Department Spotlights 
CCAS Anthropology researchers teamed with a Washington, D.C., artist to digitize a popular COVID-19 memorial. The public art installation erected thousands of white flags near the U.S. Capitol to commemorate individual lives lost during the pandemic. The project was featured in CCAS Spotlight. 
Recognized for his groundbreaking research on brain evolution in primates and other mammals, Professor of Anthropology Chet Sherwood became the third current CCAS faculty member to be elected to the prestigious National Academy of Sciences. He was profiled in GWToday.
---
Alumni Class Notes
Will Berkery, BA '18, works for the American Society of Overseas Research.
Kris Castner, MA '12, works for Dedoose, Sociocultural Research Associates as a digital and social marketing manager.
Graciela Catasus, BA '77, authored the soon-to-be published book The Revolution that Wasn't: My Candid Observations About the Cuba and US Histories.
Mary Chambers, BA '73, MA '75, is enjoying retirement and living in Lawrence, Kansas, after 18 years in New Mexico.
Alexis Clark, BA '17, MA '18, is a historic preservation specialist at the Advisory Council on Historic Preservation, where she began as an intern in 2018.
Melanie Guest, BA '04, is the director of business development for Bowery Valuation, a leading technology-enabled commercial appraisal firm. She also serves as a chair for D.C.'s Climate Reality Project, where she leads a regional HFCs phase out coalition.
Michele Hope, BA '76, MA '78, retired in 2011, after working as an archaeologist for the federal government for 34 years. She failed retirement and resides in Albuquerque, N.M., and works as a customer representative for Southwest Airlines. 
Ian Kerrigan, MA '05, is the senior vice president for exhibitions at the 9/11 Memorial & Museum in New York City. He also serves as managing editor for the journal Exhibition and as father to one-year-old daughter Prudence.
Karen Kramer, MA '00, is pursuing a PhD in American Studies at Harvard University, focusing on Native American art and activism. She is a curator at the Peabody Essex Museum in Salem, Mass., where she also directs the Native American Fellowship Program.
Josh Lederman, BA '08, is a national correspondent for NBC News and MSNBC, based in Washington, D.C. He covers national security, climate change and U.S. politics.
Lindsay Waros Marino, MA '06, is the director and collections manager at the Phillips Museum of Art at Franklin & Marshall College in Lancaster, Penn.
Cecily Marroquin, MA '13, is currently attending the Ada Developers Academy to pursue software engineering after an eight-year career in medical specialty certification. She recently relocated to Ohio and is looking forward to her next chapter in the tech industry.
Sarah Mezzino, BA '04, MA '09, was a key member of the Lawrenceville School's Abbott Dining Hall building committee, which recently won its fifth award for design/architecture, the 2020 ICAA Stanford White Award. 
Mark Nelson, MA '15, currently lives in Denver and works as the collections manager for museum collections at History Colorado.
Diogo Oliveira, BA '17, MA '18, is starting his PhD in anthropology at the College of William and Mary, and hopes to continue his field work on Mozambique Island.
Lisa Porter, MA '07, has been with the Smithsonian's National Museum of Natural History since graduating from GW. She manages the museum's volunteer program, which supports scientific departments behind the scenes and the public exhibitions.
Brandi Powell, MA '11, lives in Minneapolis with her husband and their young daughter. She is a weekday morning news anchor at the ABC affiliate in the Twin Cities.
Alanna Rizzotti, BA '19, is about to start a job as a passport specialist for the Washington Passport Agency, a branch of the U.S. Department of State. 
Samantha Shlakman, BA '00, MD '04, MPH '04, celebrated her 12th year in private practice as an adult and forensic psychiatrist in the D.C. area. She spends her free time enjoying her three small children, doing genealogy research and cooking.
Lexi Simms, BA '19, MA '21, works at the Nevada Museum of Art as a digital content producer and runs a podcast called "Lady History."
Douglas Smit, BA '08, is a lecturer in anthropology at the University of Pennsylvania. He conducts research in Peru and West Philadelphia.
Hannah Sofield, BS '17, is in her fourth year of medical school at Geisinger Commonwealth School of Medicine. She is in the process of applying for general surgery residency positions and will receive her MD in May of 2022.
Douglas Wicklund, BA '83, MA '86, retired after 35 years as a senior curator of the National Firearms Museum in Fairfax, Va. Doug has authored several books and hopes to write another one soon. 
Roy Wilensky, BA '82, is a clinical psychologist at a private multidisciplinary practice in Northern Virginia. He conducts and supervises psychological testing, psychotherapy and forensic and asylum evaluations, and manages a team of clinicians.
Sarah Zakaria, BA '99, teaches nonprofit management at Louisiana State University Shreveport and University of San Diego.
---
Department Kudos
Richard Grinker published Nobody's Normal How Culture Created the Stigma of Mental Illness in January 2021. 
PhD student Tariq Adely was featured in The New York Times article "Make Time to Mourn."
William Andrew Barr received a $90,099 grant from the National Science Foundation to examine the relationship between increasingly carnivorous Homo erectus Pleistocene mammal extinctions.
Colin Chapman was awarded a $20,000 contract with the secretariat of the Convention on Biological Diversity for a global assessment of microplastics in primates.
Eric Cline was featured in the NPR Throughline podcast episode "What Happened After Civilization Collapsed?"
Shannon McFarlin received two grants from the National Science Foundation: $16,748 to study the impacts of early life adversity on primate bone growth; and $15,750 to study the effects on primates of nutritional ecology and feeding competition on growth and development.
PhD candidate Axelle Kamanzi Shimwa received a $14,930 grant from the Leakey Foundation to study dietary independence in Virunga mountain gorillas.
PhD candidate Kristen Tuosto received a $9,706 grant from the Leakey Foundation to study skeletal impacts of early life adversity in Amboseli baboons.