Program Details
The Koobi Fora Field School (KFFS) is open to undergraduate and graduate students who wish to learn the basic principles and field methods of paleoanthropology on location. Students receive hands-on introductory training in all of the major disciplines within paleoanthropology: paleontology, archaeology, geology, taphonomy and ecology. 
The Koobi Fora area is protected within the Sibiloi National Park in Kenya and is listed as a World Heritage Site by UNESCO. Its rich Pliocene, Pleistocene and Holocene sedimentary deposits have yielded a treasure trove of fossils and archaeological materials.
2022 Dates: June 10–July 31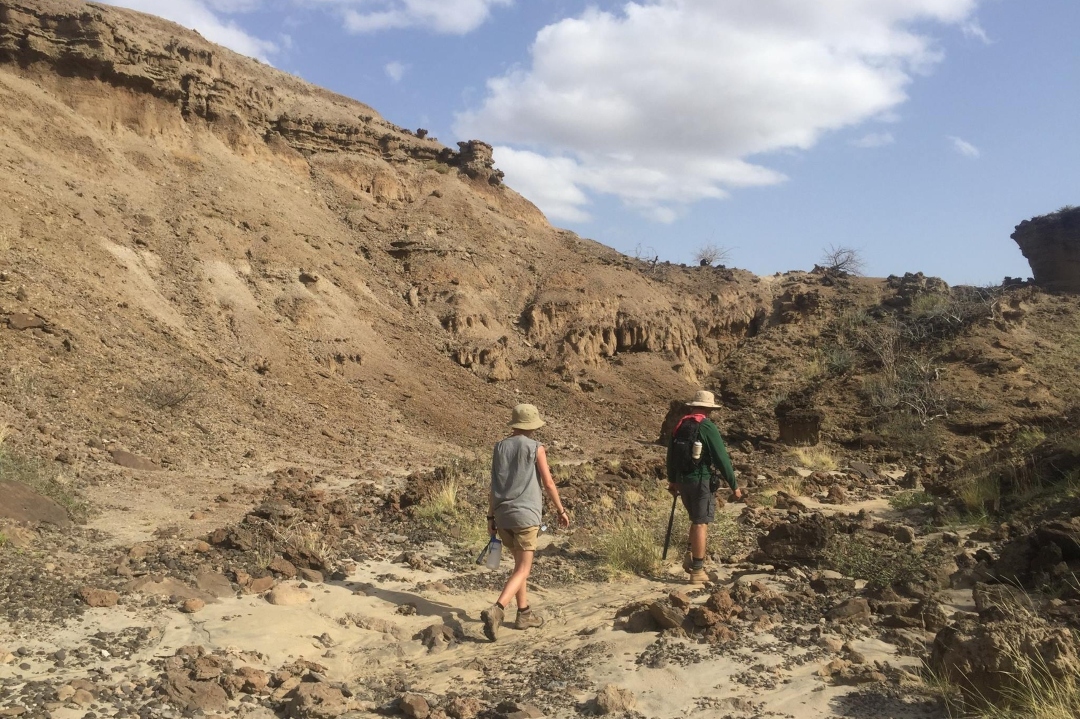 Apply to GW as Non-Degree Student
---
Who Can Attend
You need not be a GW student to attend KFFS. Our experts and student attendees come from a wide array of disciplines and geographical regions. 
Enrollment is limited. Applicants will be screened on the basis of academic records. The George Washington University, the National Museums of Kenya and KFFS reserve the right to make any changes to this program as necessary, which may include delay and/or cancellation of this program.
---
Costs
Credits: For non-GW students, the cost for the field school is based on the university rate for non-degree credits, which is subject to change. Find the current non-degree tuition rate on the GW Student Accounts Office website. 
Lodging: During your stay in Kenya, all food and housing expenses will be covered from the night before formal instruction begins until the night you arrive back in Nairobi (after the trip down from Koobi Fora).
Transportation: Attendees are responsible for the cost of flights to and from Kenya. We will collect you from the airport and provide transportation to the airport on the return. 
Preventative vaccinations and malarial prophylaxis: The use of malaria prophylactics is required for KFFS attendees. Speak to your doctor to obtain the pills prior to traveling. Learn more about health and safety on the trip.
Equipment: Good boots, a tent, a backpack, at least two water bottles, a field notebook, sunscreen and loads of enthusiasm. A full list of recommended materials will be distributed once you have been accepted to the program.
---
Curriculum and Requirements
The field school curriculum actively engages students in primary data collection. All students must be a part of an active research project and make meaningful contributions to our understanding of the geology, human biology, ecology, anthropology or archaeology of this region.
GW students may earn three to six credits for the field school program. If you are not a GW student, you will receive four credits as a non-degree student.
The complete program is comprised of three parts:
Month-long online course (spring semester)
Six weeks of fieldwork at Koobi Fora (subsequent summer) 
A follow-up workshop (subsequent fall): The follow-up program connects students with major researchers from around the United States who can help students turn their experience in Kenya into a successful graduate school experience.
Kristen Tuosto
KFFS 2016; PhD '26 in Human Paleobiology
"After KFFS, I became a PhD student at GW, where I study the impact of early life adversity on bone health and strength in baboons from southern Kenya."