Syed Mohammad Ali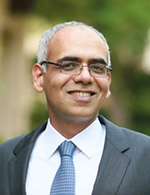 Syed Mohammad Ali
Professorial Lecturer of Anthropology
---
Contact:
Dr. Ali is a development anthropologist with two decades of experience working on major international development challenges including governance problems, issues of marginalization, and natural and man-made disasters. Dr. Ali has worked with a broad range of stakeholders including multilateral and bilateral donors, non-government agencies, local governments and community-based organizations. He has also taught anthropology and international development courses at several universities in Australia, Pakistan and the United States.  
---
Research methods; international development; South Asia.
Dr. Ali is currently a Non-Resident Scholar at the Middle East Institute in Washington D.C. He provides country of origin expert testimonies for South Asian (Bangladeshi, Indian and Pakistani) asylum seekers in the U.S. and the U.K. Dr. Ali writes a weekly op-ed in the Express Tribune, an affiliate of the New York Times in Pakistan.
Anth 6331: Research Methods in Development Anthropology
Anth 6532: Methods in Sociocultural Anthropology
Last updated May 22, 2020
Book
2014  Ali, S.M. Development, Poverty, and Power in Pakistan: The Impact of State and Donor Interventions on Farmers, Routledge, Oxford.
Policy papers
2020, Ali, S.M. and Weinbaum, Marvin, Leveraging a moment of change: Pathways to a sustainable US-Pakistan relationship, Middle East Institute, Washington D.C. 
2018, Ali, S.M. Devolution of Power in Pakistan, United States Institute of Peace, Washington D.C.
Selected Articles and Book Chapters
2014  Ali, S.M. "Bypassing poor farmers: Market based approaches to agriculture in rural Pakistan," Melbourne Journal of Politics 39: 19-39.
2013  Ali, S.M. "The Afghan drug problem and its implications for Pakistan." In H. Riecke and K. Francke, eds., Partners for Stability: Involving Neighbors in Afghanistan's Reconstruction – Transatlantic Approaches. Berlin: DGA-Schriften zur Internationalen Politik.
2008  Ali, S.M. "Commercial sexual exploitation of children in Pakistan," South Asia Journal 19: 93-101.
2007  Ali, S.M. "Poverty alleviation in South Asia," South Asia Journal 16: 65-75.
Ph.D. 2013, Melbourne University
M.A. 2003, Melbourne University
B.A. 1994, Tufts University