Leniqueca Welcome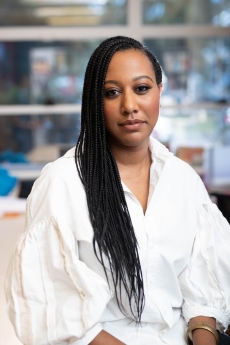 Leniqueca Welcome
Assistant Professor of Anthropology and International Affairs (she/her/hers)
---
Contact:
Elliott School of International Affairs 1957 E St. NW , 601E
Washington DC 20052
Areas of Expertise
Processes of racialization, securitization and criminalization, statecraft, affect, and visuality.

Regional Focus: Trinidad and The Americas
---
Leniqueca Welcome is a multimodal anthropologist and designer from Trinidad and Tobago. Prior to starting her doctoral research, she was trained as an architect and worked for an architecture firm in Trinidad. Drawing on her visual background, her work combines more traditional ethnographic methods with photography and collage. She is currently working on her first book manuscript tentatively titled, Come Out of This World: Beyond Terrains of Criminalization to Where Life is Precious, which examines criminalization and the operation of colonial technologies of anti-blackness over space and time in Trinidad. By attending to these processes, the project illuminates the ways the figure of the violent criminal is used to construct—but can also trouble—current ethical-juridical limits of humanity, care, justice, and freedom.
Ph.D., 2021, Anthropology (w/ certificates of Urban Studies and Experimental Ethnography), University of Pennsylvania
B. Arch, 2013, Architecture, University of Arkansas, Fayetteville
Peer-Reviewed Publications
Welcome, Leniqueca A. 2022. "To Be Black Is to . . . : The Production of Blackness in and beyond Trinidad."Small Axe: A Caribbean Journal of Criticism 26 (2): 108–118.
Welcome, Leniqueca A, and Deborah A. Thomas. 2021. "Abstraction, Witnessing, and Repair: or, How Multimodal Research Can Destabilize the Coloniality of the Gaze." Multimodality & Society 1(3): 391-406.
Welcome, Leniqueca A. 2020. "The Infrastructures of Liberation at the End of the World: A Reflection on Disaster in the Caribbean." Small Axe: A Caribbean Journal of Criticism 24 (2): 96–109.

Book Chapters
Welcome, Leniqueca A. forthcoming 2023. "Wading in the Thick: A Sovereign Encounter Through Collage," in Sovereignty Unhinged: An Illustrated Primer for the Study of Present Intensities, Disavowals, and Temporal Derangements edited by Deborah A. Thomas and Joseph Masco. Durham, NC: Duke University Press.