Candace Greene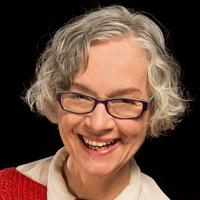 Candace Greene
Professorial Lecturer in Anthropology
---
Contact:
Office Phone:
(202) 633-1929
Dr. Greene is a cultural anthropologist with a special interest in the intellectual management of museum collections and how it articulates with collections research and community access. She is an Ethnologist in the Smithsonian Institution's Department of Anthropology.
---
Native American art, especially Plains Indians; material culture; representation; museum research methods.
Dr. Greene directs the Summer Institute in Museum Anthropology, a program offered by the Department of Anthropology at the Smithsonian Institution's National Museum of Natural History with major funding from the Cultural Anthropology Program of the National Science Foundation. The program seeks to promote broader and more effective use of museum collections in anthropological research by providing a supplement to university training. It:
introduces students to the scope of collections and their potential as data
provides training in appropriate methods to collect and analyze museum data
makes participants aware of a range of theoretical issues relating to collections
positions students to apply their knowledge within their home universities.
Anth 6201 (old 230): Anthropology in the Museum
2009  Greene, C.100 Summers: A Kiowa Calendar Record. Lincoln, NE: University of Nebraska Press.
2007  Greene, C., and R. Thornton, eds. The Year the Stars Fell: Lakota Winter Counts at the Smithsonian. Lincoln, NE: University of Nebraska Press.
2001  Greene, C. Silver Horn: Master Illustrator of the Kiowa. Norman: University of Oklahoma Press.
Selected Articles and Online Resources
n.d.  Lakota Winter Counts 
n.d.  Kiowa Drawings
1996  "Discovering the audience: A reorientation in museum analysis," Reviews in Anthropology 24: 267-276.
Ph.D. 1985, University of Oklahoma
M.A. 1976, Brown University
B.A. 1971, University of Texas